Acupuncture in Okotoks
What Is Acupuncture?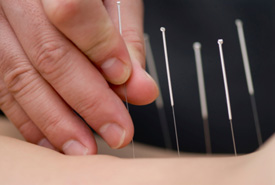 Acupuncture is an effective healing system that has cared for millions of people for centuries. Doctors of Traditional Chinese Medicine and Acupuncture use this non-invasive system to diagnose and successfully treat countless health conditions.
What Does Acupuncture Do?
Very fine sterile needles are inserted into acupuncture points to help the body regain balance and homeostasis. These acupoints are located on channels or meridians that traverse the whole body. Each meridian is connected to an organ and is responsible for the function and health of that organ.
---
What Is Qi?
The meridians are full of an energy called Qi (pronounced chee), which circulates, in the meridians and throughout the whole body in a 24-hour period.
This flowing Qi is like a river, which brings life and health to all it comes in contact with, like organs, cells, glands, tissues, and the muscles in the body.
What Causes Ill Health?
When this river of Qi becomes blocked or disturbed it will eventually, if not immediately, cause you illness.
This blockage can be caused by physical and emotional trauma, stress, lack of exercise, overexertion, seasonal changes, poor diet, or injury. These are among the many things that can influence the quality, quantity and balance of Qi.
What Should I Expect From A Treatment?
During the initial exam a full health history will be taken. Many questions are asked regarding health, symptoms and lifestyle. Pulse and tongue diagnosis will be performed; an electronic reading of the balance of Qi within each meridian, and an appropriate physical exam will be conducted.
This information is this organized into a well-structured treatment plan based on over 4000 years of Chinese Medical Theory. This will enable us to assemble a Traditional Chinese Medical pattern, which explains the diagnosis and the course of treatment.
Once the imbalance is detected acupuncture will be performed. This safe and painless insertion of the needles can unblock the obstruction, and balance Qi where it has become unbalanced. Once this is done, Qi can freely circulate throughout the body providing adequate nourishment to cells, organs, glands, tissues and muscles. This eliminates pain, restores balance and harmony along with the body's natural ability to heal itself, ultimately leading to optimal health and well-being.
Acupuncture and Chinese Herbal Medicine is a safe, effective and drug-free therapy that can help address a wide variety of common ailments and problems.
The World Health Organization States Acupuncture & Chinese Medicine Is Proven Effective For:
   Addictions
   Allergies
   Anxiety
   Asthma
   Back Pain
   Bronchitis
   Carpel Tunnel Syndrome
   Chronic Fatigue
   Constipation
   Dental Pain
   Depression
   Digestive Problems (IBS)
   Premenstrual Syndrome (PMS)
   Fatigue
   Fibromyalgia
   Headache
   Incontinence
   Infertility
   Insomnia
   Mental Irregularities
   Migraine
   Morning Sickness
   Nausea
   Osteoarthritis
   Pain Management
   Dizziness
   Relaxation
   Sciatica
   Seasonal Affective
   Shoulder Pain
   Sinusitis & Rhinitis
   Sore Throat
   Smoking Cessation
   Tennis Elbow
   Trigeminal Neuralgia
   Urinary Tract Infection
   Weight Control
   And much more……..
---
Complete Health Chiropractic & Massage | Okotoks Acupuncture | (403) 995-4640