Dr. Caitlin Zietz, B.Sc., D.C.
Okotoks Location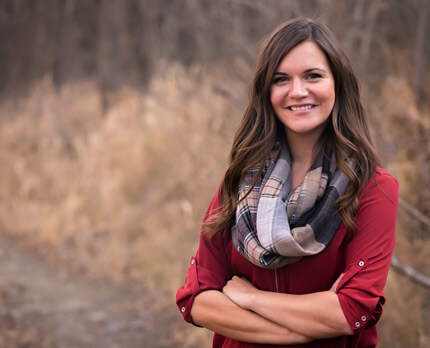 Born and raised in Calgary, Dr. Caitlin graduated from Northwestern Health Sciences University in 2012. There, she earned a Bachelor of Science in Human Biology and a Doctor of Chiropractic.
She founded Complete Health Chiropractic & Massage in 2013. In practice, Dr. Caitlin dedicates her time to families on a journey to wellness.
From fertility to life with your little ones, she's here to support your growing family and your individual health concerns.
She's here to support you, encourage you and help you reach your health goals, respecting your decisions along the way.
Book An Appointment with Dr. Caitlin Zietz

Focusing on Mom and Baby
Dr. Caitlin is focused on prenatal, postpartum and pediatric care, ensuring new moms have a wonderful pregnancy experience and give their little ones the best possible start in life. She's certified in the Webster Technique by the International Chiropractic Pediatric Association.
She has also seen significant results in treating
Back pain
Congenital torticollis
Disc bulge
Headaches
Infant constipation
Infant sleeping difficulty
Latching difficulty
Neck pain
Pelvic pain
Postnatal stress incontinence
Postpartum-related pain
Pregnancy-related low back pain
Symphysis pubis dysfunction (SPD)
Additionally, Dr. Caitlin was named one of Crowd Wellness's Top 30 Chiropractors in Calgary in 2015. She's been selected as the Chiropractic Mentor of the Junior Achievement of Southern Alberta's World of Choices Event. In this program, she mentors young women each year who are interested in careers in chiropractic and health care.[/notebox]
Boosting Our Community's Health
Passionate about health and wellness, Dr. Caitlin enjoys connecting with our practice members and community. She receives referrals from health care providers of all types including obstetricians, midwives, medical doctors, physiotherapists and practice members who want to enhance their loved ones' quality of life.
Dr. Caitlin is also a member of the Okotoks Chamber of Commerce.
Enjoying Acreage Life and the Outdoors
Recently married, Dr. Caitlin lives with her husband, Evan, on their acreage west of Turner Valley. In her spare time, she enjoys all the things acreage life has to offer. From creating her own vegetable garden, or hiking nearby trails, she feels nature always has a way of grounding her and reminding her to enjoy the simple things in life.
---
Dr. Caitlin Zietz | Chiropractor Okotoks | (403) 995-4640