Dr. Chris Yavis, BKin, D.C.
Bridging Chiropractic and Healthy Living
I grew up in a family that was all about natural health care and the importance of taking care of yourself. It's amazing that if you take care of your body, your body will take care of you."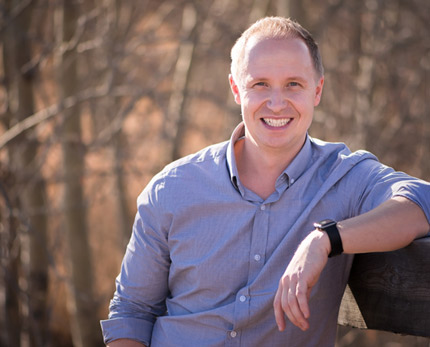 Dr. Chris has always had an interest in how a healthy diet and exercise play a part in maintaining a healthy life. He found that chiropractic fit well into the same scope.
"If people take care of themselves, they don't need to rely as much on external factors like drugs and surgery."
The first time he went to a chiropractor, he was in pain, unsure of what to expect. After his initial adjustment, Dr. Chris felt better immediately. He continued to receive chiropractic care and noticed that not only his pain went away, but how much better he felt all around.
After experiencing these benefits and realizing chiropractic align with his beliefs, he decided to enter the chiropractic profession.
Request An Appointment

Living your Life to the Greatest Potential
Dr. Chris completed his Bachelor of Kinesiology at the University of Calgary. Then, it was off to Toronto to attend Canadian Memorial Chiropractic College, where he achieved his Doctor of Chiropractic. He returned back home where he began practicing in Calgary as an associate and then finally moved his practice to Okotoks and founded Complete Health Chiropractic & Massage.
At Complete Health Chiropractic & Massage, Dr. Chris likes developing relationships with his practice members and getting to know them. He feels that a healthy relationship is vital in gaining their trust, and helping them obtain their true goals when it comes their health. He not only looks at your pain but how he can improve your daily life, to help you live longer and healthier. His goal is to keep you doing the things you love to do. He treats people from all walks of life with a variety of conditions including:
Back Pain
Neck Pain
Disc Pain
Headaches
Postural Pain & Correction
Shoulder Complaints
Tennis & Golfers Elbow
Carpal Tunnel
IT Band Syndrome
Bursitis
Knee Complaints
Shin Splints
Plantar Fasciitis
Sports Injuries
Nutritional Counseling
Exercise Prescription
Always Learning
Since his graduation from chiropractic school, Dr. Chris has earned additional certifications that benefit our practice members:
Muscle Release Therapy (Myofascial Release)
Graston Therapy
Contemporary Acupuncture Therapy
He takes regular continuing education courses on topics such as extremity adjusting and headache care to stay up to date on the latest in the health field.
Dr. Chris has given numerous workshops on Headaches, Gut health, Cardiac health, Brain health, Exercise, Nutrition, Posture, Stress management, and Bone & Joint health.
Staying Active and Enjoying Okotoks
Outside of the practice, Dr. Chris loves to be outdoors. "There's something about being in the wilderness that is so relaxing to me." He goes camping, hiking, snowboarding, quading, and anything else that gets him out in nature. Dr. Chris and his fiancé have a new baby on the way as well as two cats and two dogs who live like kings. Through their constant whining to go out for a run, the dogs help remind Dr. Chris about the importance of being active. He also enjoys going to the gym and working out.
He and his fiancé love to travel and experience new things and get adventurous, such as hiking in rainforests, climbing waterfalls, and caving.
Experience the many benefits care at Complete Health Chiropractic & Massage may offer you.
Contact us today
! Convenient extended hours and Saturday appointments are available.
---
Meet Dr. Chris Yavis | (403) 995-4640