Okotoks Massage Therapy
What Is Massage Therapy?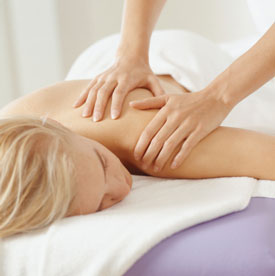 Massage therapy is the focused on treating the soft tissues of the body. These include the muscles, tendons, ligaments, connective tissues, and fascia throughout your body. As daily stresses accumulate, this can put an increased burden on the soft tissues of your body, which will lead to discomfort and eventually pain.
Massage therapy will help alleviate this discomfort and help your body deal with these daily stressors more effectively. Our massage therapists use a variety of techniques that is best suited to you and your condition.
The Complete Health Chiropractic & Massage Difference
Massage sessions are either full body or specific area, and generally the time booked for a massage will dictate what can be accomplished in a particular treatment. At Complete Health Chiropractic & Massage, all of our massage therapists are 2200 hour certified and specialize in deep tissue and therapeutic massage.
Relaxation, trigger point therapy, and massage for pregnancy/post partum are also offered. Massage therapy is a great adjunct to chiropractic care and helps to optimize body function, which will in turn decrease pain and improve overall health. Massage works best with consecutive sessions. This allows the therapist to work deeper and deeper, layer-by-layer into the fascia and underlying muscle fiber.
What does Massage Therapy treat?
General aches and pains
Work related pain
Motor Vehicle Accidents
Athletic Injuries
Overuse Injuries
Injury prevention
Pregnancy/ Post Partum
Headaches
Postural Dysfunction
Arm & Leg numbness, tingling, pain
Delayed Onset Muscle Soreness
Stress-Related Muscle Tension
Stress, Anxiety, & Depression
General relaxation
Ready to experience the healing benefits of massage therapy in Okotoks?
Contact us
today!
---
Massage Therapy in Okotoks | (403) 995-4640