Chiropractic Care
Stopping Restrictions for Better Function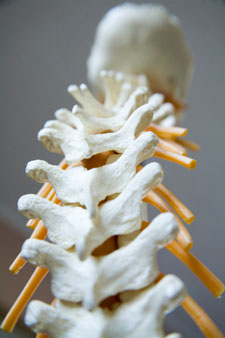 As chiropractors, Dr. Chris and Dr. Caitlin are trained to detect what is causing your pain, as well as any restrictions that interfere with the functioning of your nervous system. This system runs everything on your body. When we find and correct them, stress is taken off of the joints, muscles and nerves, helping you regain your mobility and allowing your overall health to improve.
Most know of chiropractic's success in treating back and neck issues. There is, however, no limit to what we can help you with, such as your ankles, wrists or any other part of the body. We'll find any restrictions present and get you moving, calming your nervous system so that you can better fight life's stresses.
Along the way, we'll educate you on how to take care of yourself and live better with natural health care.
Finding the Best Techniques for You
Dr. Chris and Dr. Caitlin utilize a variety of different techniques to help our practice members. Primarily, we use Diversified, which is a manual adjustment technique. We also have gentle drop tables to help aid in mobilizing the spine. Additionally, we offer Activator Methods®, which is instrument-based and extremely low-force.
If you haven't been adjusted before, please know that if you hear any noises, it's nothing to be concerned about. It's just gas releasing from a joint. Your adjustments won't hurt, and Dr. Chris or Dr. Caitlin will walk you through the entire process before beginning. You may sometimes feel sore after your first adjustment, similar to how you'd feel after a good workout. It's normal and just means that things in your body are starting to shift.
Getting on the Road to Recovery
We understand that you may have chosen to visit our office because you're feeling discomfort. Our team wants to get you out of pain, but more importantly, we want to get your body functioning properly again, so that you get back to doing the things you love to do in life. When you reach a healthy state, we want to keep you that way with wellness care. You won't have to come in nearly as often, but just enough to maintain the progress we've made. It's a better option than experiencing a recurrence of your initial problem, which can often happen without wellness care.
---
Chiropractic Care | (403) 995-4640