New Practice Members
Complete Health Chiropractic & Massage
is a comfortable place, rustically decorated with exposed beams, glass and stone. We offer a family-friendly atmosphere where all ages of people can relax and feel at ease. Our team is ready to welcome you!
Your Initial Visit
The paperwork we'll ask you to fill out is available on our website, and you can bring it in with you completed. Then, we can get started right away with your chiropractor taking your history. Our assistants will perform testing such as surface electromyography, foot scans, posture pictures and take your oxygen saturation level and blood pressure.
Next, Dr. Chris or Dr. Caitlin will do a full physical examination. If we don't have to send you for any additional testing, you'll receive your first adjustment and be on your way within about an hour.
At your second appointment, your chiropractor will go over the results of all tests and examinations performed. We'll show you where the restrictions are in your spine that may predispose you to pain and discomfort as well as the possible causes of those restrictions.
Your posture pictures and foot scans will be detailed, with an explanation of how posture and your feet affect your body's function. The surface electromyography will allow us to show you where stress is placed on your back.
After discussing your particular issue and goals, we'll recommend a treatment plan along with any additional solutions such as massage or acupuncture that may help you.
---
Continuing Your Plan
You'll see Dr. Chris or Dr. Caitlin according to your individualized treatment recommendations. Along the way, we'll give you exercises specific to addressing your issue and advice on nutrition and other lifestyle components.
When your plan is completed, we'll do another examination so that we can compare new scans, pictures and examination results to your first day with us.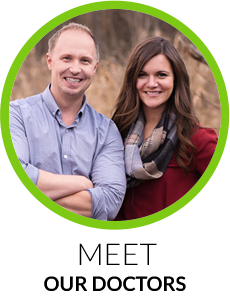 Starting on a Journey to Wellness
Your brain doesn't know that your body has a problem for some time — often weeks, months or even years. When a joint is restricted and not moving properly, your muscles will eventually seize up and become exhausted. This chain of events will cause inflammation, limited movement and eventually, pain.
This is when your body starts giving out on you as you bend, lift or twist. When you're adjusted, your brain starts to feel what proper alignment is like, and it feels incredible. When something goes out of alignment, you'll know right away.
For this reason, our practice members choose to enter wellness care. By seeing us every 3-4 weeks, you can make sure your brain and body are always connected, free from experiencing a relapse and preventing new problems from occurring.
We can't stop the stresses of life that originally brought you in, but we can make sure you're well-equipped to fight them off with your body's natural defenses!
Contact us today
to find out what we can do for you! Saturday appointments are available.
---
New Practice Members | (403) 995-4640